You can now add custom activity charts to the activity heart rate, power, pace and data pages. These charts are created using Javascript code executed on the Intervals.icu servers and rendered using Plotly.
Look for the new charts button at the bottom of the activity power/hr/pace/data pages:

You can toggle all the standard charts on/off and move them around and add your own charts. You can optionally share your own charts with everyone and search for charts others have created.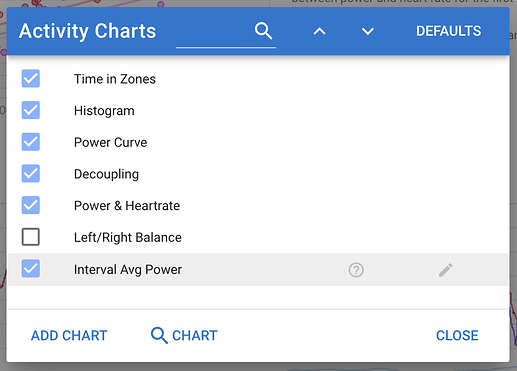 The selected charts for each page are stored per sport.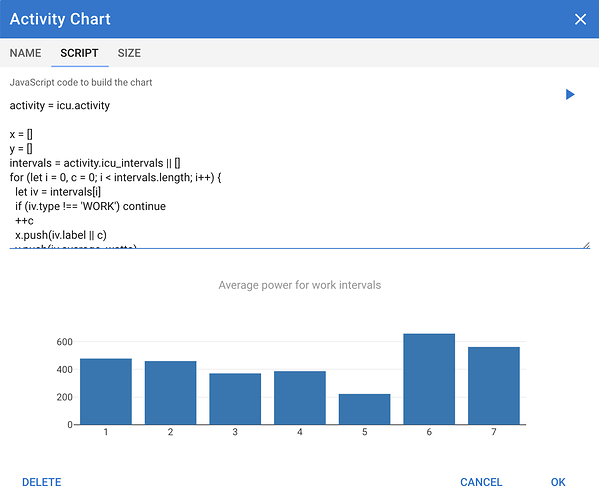 The script has access to an "icu" object providing access to the following objects:
activity
athlete
streams (watts etc.)
sportSettings (for the activity sport)
wellness (wellness record for the day)
powerCurve (power duration curve)
powerCurveFatigued0 (power curve after some KJ of work done)
powerCurveFatigued1 (power curve after more KJ of work done)
hrCurve (heart rate duration curve)
paceCurve (distance vs time curve)
gapCurve (distance vs time using gradient adjusted pace)
Here is the code:
{
  let activity = icu.activity

  let x = []
  let y = []
  let intervals = activity.icu_intervals || []
  for (let i = 0, c = 0; i < intervals.length; i++) {
    let iv = intervals[i]
    if (iv.type !== 'WORK') continue
    ++c
    x.push(iv.label || c)
    y.push(iv.average_watts)
  }

  let data = [
    {
      x: x,
      y: y,
      type: 'bar',
      marker: {
        color: '#63c',
        opacity: 0.7
      }
    }
  ]

  let layout = {
    title: {
      text: "Average power for work intervals"
    },
    margin: {
      l: 30,
      r: 20,
      t: 20,
      b: 30
    }
  }

  chart = { data, layout }
}