Intervals.icu now supports download of activities and wellness data from Polar via their API. Just tick the boxes in /settings and authorise Intervals.icu: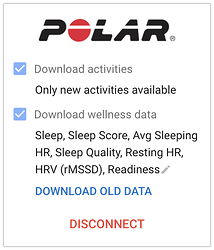 Only new activities are downloaded. This is a limitation of the Polar API. I did investigate implementing "Import all data" like Garmin using the file they send you when you ask for your data. Unfortunately you can't re-create what you would get from the API using the data they send you. Altitude is missing and speed is very different. So I have parked that for now.
Click the list of wellness items to choose which ones you want to get from Polar. Resting HR is taken from average sleeping HR. Sleep time is time in bed less interruptions and awake time. Sleep score is the Polar sleep score.
Sleep quality is derived from sleep score: 85+ = Great(1), 70+ = Good(2), 60+ = Average(3), below 60 = Poor(4).
The "Download Old Data" button downloads old wellness data. It takes a while so please be patient.
Tx to @Dr_Robert_D_Saunders and @Peloide for helping me test this.