I would make the sessions more progressive week on week.
start with 2x8 minutes of 30:15s and then build up to 10mins, then maybe a 3rd set - I think 3x10' is a pretty advanced workout. maybe only in the last week before you finish the training block.
those interval sessions are tough so make sure to keep the other riding very easy. Z1/2 (and on the low end of z2).
good luck!
One question, the idea is make this plan in indoor or outdoor? or both?
Indoor, sundays sometimes outdoor.
I ask because in my opinion for indoor training the workout length above 90 minutes is to much, this is my opinion and my experience.
In principle I like the plan, but I would do a bit of shuffling.
Firstly, overall TSS is pretty low. Can you extend the low intensity sessions a bit?
Secondly, in the first picture You have a rest day after a high intensity session. It makes sense to have a rest day before the high intensity, you should be able to do those low intensity sessions on tired legs. Try to be fresh for the hard sessions. (2nd pic is better)
On this one, I would say that looks pretty tough/boring for quite limited TSS. Can you do a long ride at the weekend and add a rest day in during the week? Instead of one of those structured LT1 sessions, just free ride and cap your HR?
This is one of the reasons why I moved away from Xert, over complicating aerobic development sessions.
I tried, last Winter, to do just that: easy "long" rides (indoors, so as @Joao_Samora said, more than 90min is quite long), keeping my HR below the max limit of Z2; and a couple of high intensity workouts each week. I didn't notice any benefit; in fact 2020 has been my worse season (I don't race) on my usual segments. I lost a lot of endurance, and a lot of my short term power.
I'm using Xert, to have at least a good evaluation of my "signature", so that I can adjust my workouts to keep improving. But the workouts you see on that screenshot are from Thibault (https://nature-humaine.ca/2019/03/modele-thibault/). I'm planning to do a few weeks of those, and then adapt my plan according to the results. I hope to finally, reach a FTP of 300W in April, I was "that" close in 2019 (this year, I'm close to 270)…
Remember that just because something didn't seem to work that well, it doesn't necessarily need to be changed. Consistency is what builds fitness
My biggest improvement this year is my LT1, as that has come from a lockdown of long and easy solo rides and runs, capping heart rate to the top of Z2. Now I can do an hour at 250W (z3 power, z2 heartrate) with 0.5% decoupling. I would question how effectively you can build aerobic endurance with no longer rides, but I appreciate they are not much fun indoors. Lucy in the Sky With Diamonds will help, if you can repeat it each week without wanting to throw your bike out of the window.
One can definitely boost LT1 from intensity and you don't need excessively long rides. I pushed my LT1 to 335w by doing 'Lactate Rainbows' and Neuro work.
eg 15-20x 70s on 20s off at 435w (390-400 ftp).
Use short interval (long set durations) of neuro + cardio & heavy torque combinations to boost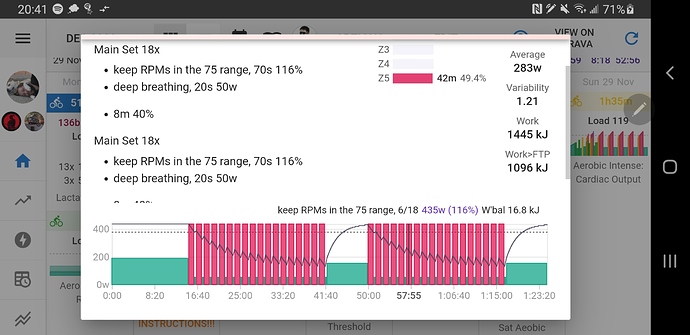 Replied on the wrong thread, sorry.