I will try to make this short and concise, because I have lots of doubts about the info I've been picking up.
So, I started cycling seriously almost two years ago, my FTP is around 265/275W and my main objectives are around ultra endurance events (12h+ on the bike).
I have been following some generic training plans for the past few months, and now I'm looking to create a customized training plan for the next three months or so. My overarching goal is to enhance my overall fitness and reach a peak performance level by December. Subsequently, I plan to ease off and focus on pre-season workouts in January and February before gradually intensifying my training once more in preparation for a 1000km race in June.
I'm trying to follow a Polarized plan with a weekly schedule of 4 to 5 rides per week, 2 HIIT rides and 2 to 3 endurance rides (one of them is a 3/4h ride). I can consistently put at least 7h on the bike, and if I push it I can do 10/11h but it is not something I can do all the time.
This is where things get complicated because with just 7/8/9h of basically endurance rides and two HIIT sessions during the week, the TSS are quite low, the form line is in grey, and it doesn't feel like work at the end of the week.
I know I should just trust the process and metrics are just metrics, but I need help from someone that knows better than me to tell me if what I'm doing is correct or not.
Below it's two prints of my last and next week and my fitness form charts for the last 27 weeks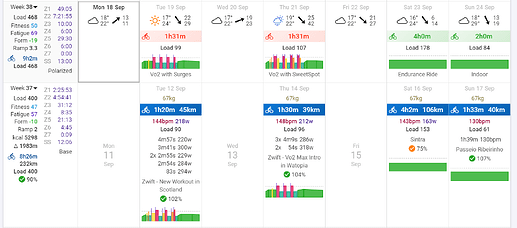 Form/Fitness charts