I've noticed something recently on the Fatigue/Fitness chart that, to me, looks like it's not right. For the current date and before I complete any activity the 'Fatigue' line drops very precipitately and what looks to be steeper than a couple of days ago when I took a day off.
From yesterday (Tue Aug 18) to today my Fitness has dropped from 100 to 60 (Red arrows). While a couple of days ago it only dropped from 117 to 102 from a day off (Blue arrows). I think I have noticed this similar steep drop off before but never really took note of it.
I assume this is an error and it then affects the future predictions of 'Fatigue'.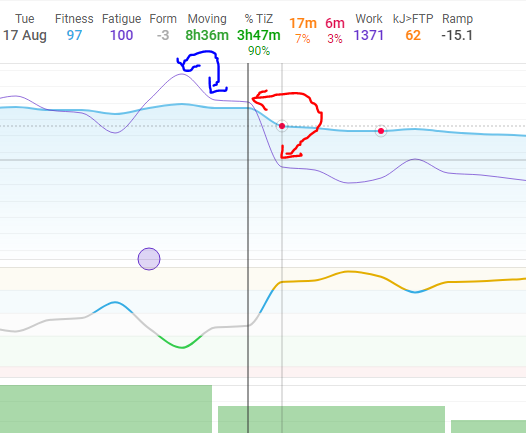 Also, IDK if this changed in the recent past but I would prefer that the current date would use the planned TSS value for the chart until an activity is logged. I typically workout in the afternoon so this means that if I look at the charts during the day then it looks as if I am not going to complete the workout.