It would be awesome if there would be some sort of visual indicator that would allow us to easily distinguish between actually completed TSS and planned TSS on the /fitness page.

In the fitness chart itself this could perhaps be a dotted line for every point in time after today? Something like TrainingPeaks has for their events overview on their home screen.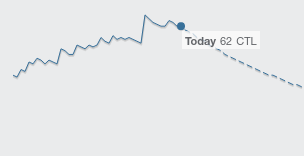 I also have a custom bar chart showing the weekly TSS where this would be especially useful (at least for me). Especially in the current week it would be great to see the already completed TSS in a different color than the planned (future) TSS for the week.